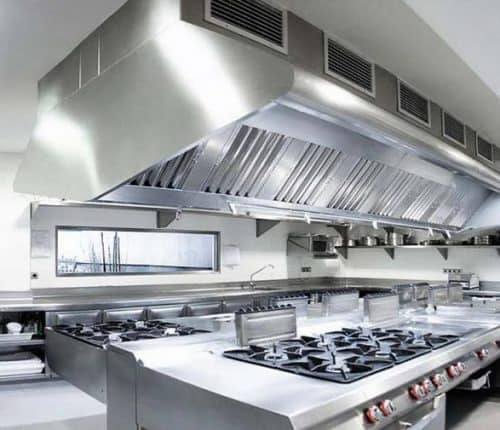 Tom's Hood Cleaning LLC is a trusted, professionally certified, family-owned business providing commercial hood cleaning services in New England. In addition to Commercial Exhaust Hood Cleaning, we also offer Fan Belt Service and many other fan services. We work in accordance with the National Fire Protection Association's Code 96 and will assist you in passing local fire or Fire Marshal Inspections. Although the frequency varies based on the size of your restaurant, the NFPA recommends most commercial hood cleanings be completed every 3-6 months to ensure optimal performance.
We guarantee our work and strive for excellence in customer service. Keep your property, staff and customers safe, call Tom's Hood Cleaning today.
PROTECT YOUR BUSINESS FROM FIRES NOW
According to NFPA 96 kitchen exhaust systems need cleaning on different frequencies by a licensed technician. Tom's Hood Cleaning is fully licensed and insured and will give you a free inspection with any quote.
Businesses with kitchens are required to have its hoods and exhaust systems cleaned regularly or face large fines. The NFPA recommends most commercial hood cleaning be done every 3-6 months to ensure optimal performance. We are certified by the NFPA. Their guidelines are below.
Monthly
Systems serving solid fuel cooking operations or very high volume cooking.
Semi-Annually
Systems serving Low to Moderate cooking operations.
Quarterly
Systems serving Moderate to high-volume cooking operations such as 24-hour cooking, charbroiling, or wok cooking.
Annually
Systems serving low-volume cooking operations, such as churches, day camps, seasonal.
Our Customers Enjoy Automatic Bookings and are Able to Request
a Convenient Day and Time for Inspection Through Our Online Portal